Register for ASM 2017 - early bird ends 30th June!
Annual Scientific
Meeting 2017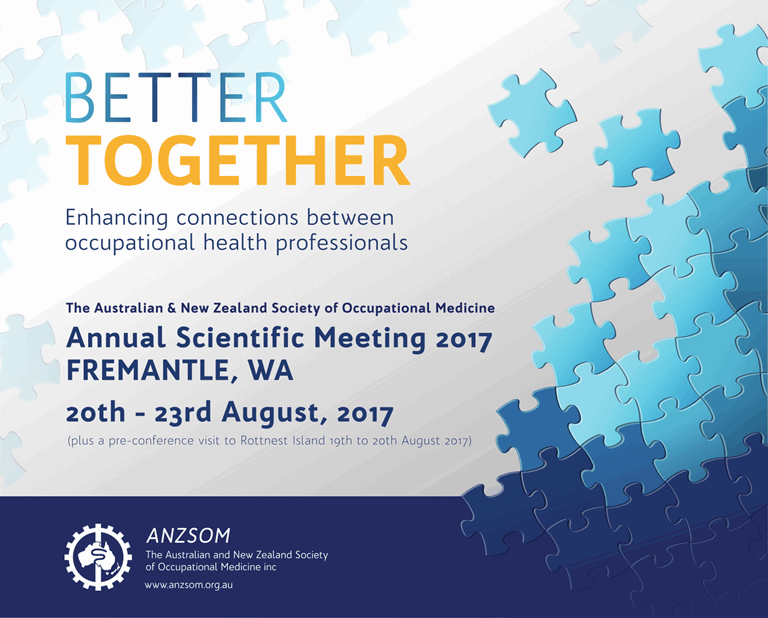 Sun 20 to Wed 23 August 2017
(includes pre-conference event Sat 19 to Sun 20 August)
The ASM 2017 theme of "Better Together" recognises the diverse nature of the occupational health community and focuses on bringing them together for an exciting learning and networking experience.
---
Program now available to download
---
Accommodation in Fremantle

Book now and make the most of special conference accommodation rates.
---
Call for papers - extended to 31st May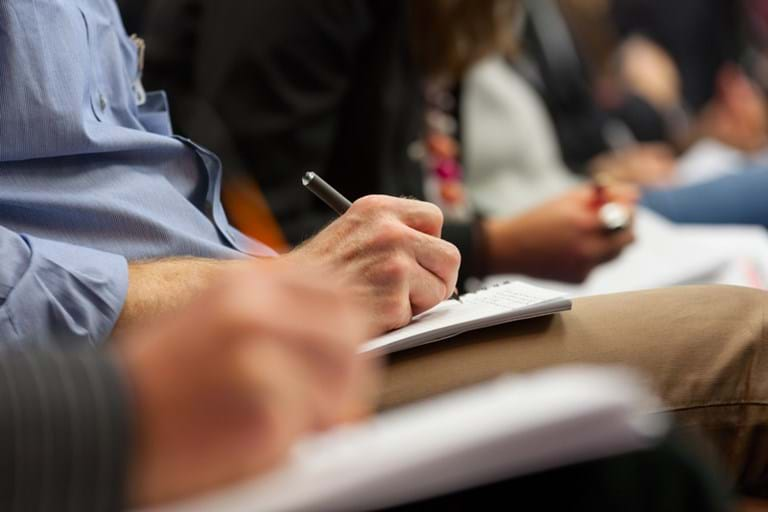 Do you or anyone you know have a brilliant paper, case study or industry research in the pipeline that is relevant to the conference theme of "Better Together - enhancing connections between occupational health professionals"?
---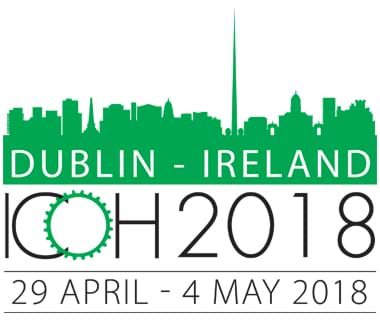 Registrations for ICOH 2018 in Dublin are now open
News Feed
---
25-05-17
Funding grants for women's leadership development
Women & Leadership Australia (WLA) is administering a national initiative to support the development of female leaders across Australia's health sector.
The initiative is providing women with grants of between $3,000 and $8,000 to enable participation in a range of leadership development programs.
The leadership development programs are part-time and delivered nationally via WLA's blended learning model. Scholarship funding is strictly limited and has to be allocated prior to the end of this financial year (June 30).

Expressions of Interest
Click here to find out more and register your interest by completing the Expression of Interest form prior to June 16, 2017
---
01-05-17
iCare Dust Diseases Care: Scholarships & fellowships program - call for applicants
Icare Dust Diseases Care is currently providing funding for scholarships & fellowships which relate to dust diseases. Essentially, we are looking to fund research into causes, mechanisms, diagnosis, treatment and prevention of dust diseases which aim to reduce the risk of developing a dust disease or optimise health and care outcomes for people who already have a dust disease.
---
28-04-17
New issue of ANZSOM's Learning Update (April 2017) now available
ANZSOM's Learning Update provides members with information and resources to support professional development. This issue focuses on 'Mental Health in the Workplace' and features information on:
The Mental Health First Aid Course offered at ASM2017
Call for papers extended to 31st May - be in the running to win the David Goddard Best Paper Award for 2017
Watch Anna Snodgrass' presentation on 'Findings of a major mental wellbeing survey' which won the Best Paper award last year
Other links and resources on mental health in the workplace
---
28-04-17
Revised Consensus Statement on the Health Benefits of Good Work released
A revised Consensus Statement on the Health Benefits of Work was released earlier this week of which ANZSOM is a signatory. The revised consensus statement refocuses the approach from return to work to 'good work' as a preventative factor for promoting health and wellbeing. We see these changes as an important step forward in the discussions about work and health. Contact AFOEM Executive officer, Rumbi Mabambe should you have any questions regarding the revised consensus statement.
---
21-04-17
ANZSOM to host ICOH Congress in 2021, 21-26 March
ANZSOM is pleased to announce that the society will host the ICOH 2021 congress in Melbourne. This is a great privilege for our organisation and an enormous opportunity for occupational health professionals throughout Australia; this being the largest occupational health congress in the world. Planning is now underway and ANZSOM will be looking to collaborate with other occupational health organisations and experts to ensure this event showcases our great city as well as the great work being undertaken in occupational health internationally. Updates will feature regularly on the website.
For information, contact the secretariat (secretariat@anzsom.org.au)
---
Branch Events
ANZSOM/AFOEM QLD Branch Educational Meeting, Thurs 1 June
Topic: The How, What, When, Where and Why of Spinal Imaging
What to image and when

How to interpret the Radiologist report

Why it can be helpful to discuss interventions available with your Radiologist
RSVP by Monday 29th May to confirm dinner place
---
ANZSOM (NZ) Annual Conference 2017
22nd - 23rd September 2017, Devon Hotel, New Plymouth
Theme: "Occupational Health in the Primary Industries"
ANZSOM NZ's annual conference will have the theme of Occupational Health in the Primary Industries and will feature keynote speakers from Australia and NZ with work site visits planned.
---
Job opportunities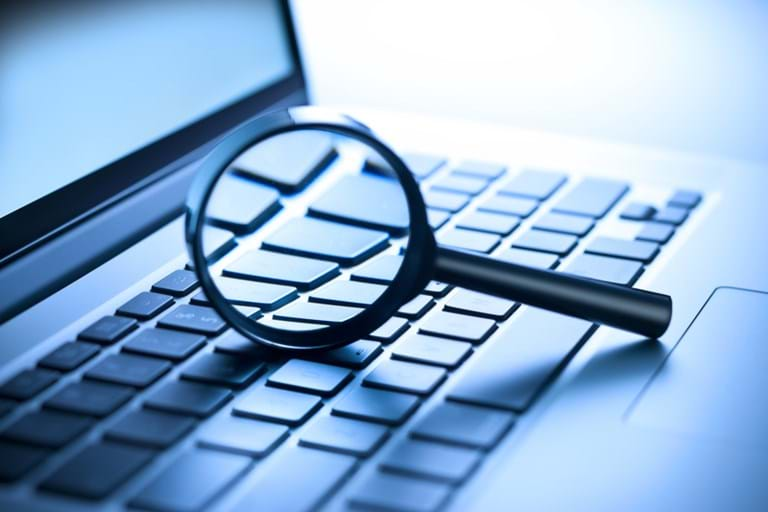 Fit for Work NZ - Occupational physician roles available

iCare Dust Diseases Care - Call for applicants for scholarships and fellowships program

Precision Health - Occupational Physician needed

Occmedi - Occupational Physician / Practitioner required

Brisbane Industrial Health Services - Vocationally Registered Doctor